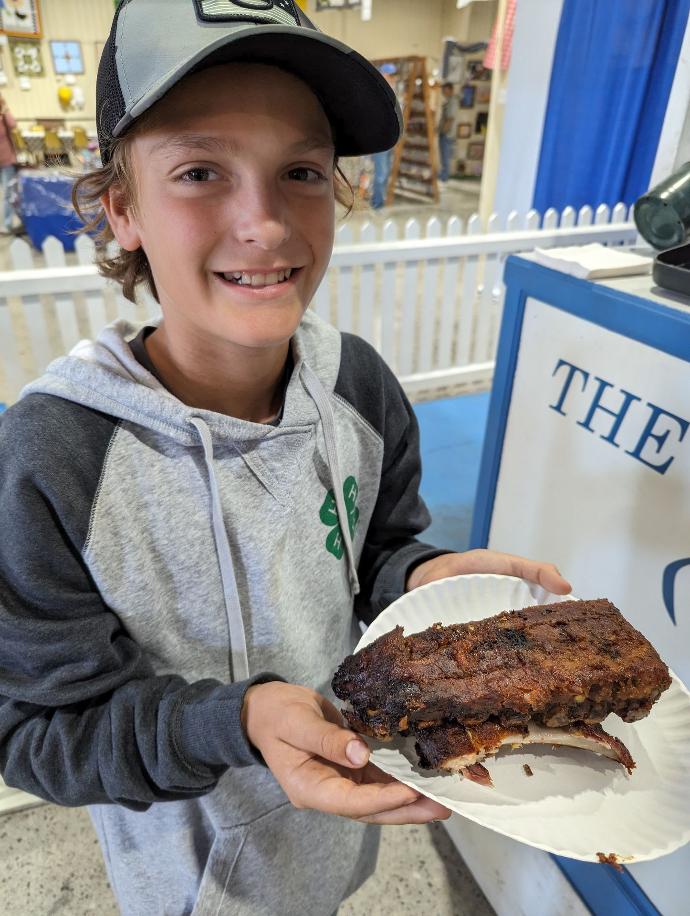 Tender and Juicy Ribs
Pork Ribs from the Store
Easy Rib Rub (below)
Sky High Apple-Glide Barbeque Sauce
This is a simple method for making tender, tasty barbeque ribs at home. No smoker and no boiling needed.
Remove ribs from package at pat dry of excess moisture. Remove the membrane on the back of the ribs by inserting a dull knife, like a butter knife (we use an oyster knife) under the edge of the membrane and pulling it up until you can get your finger under it.
Take hold of the membrane with a clean, dry cloth and peel it off. With luck, it will come off in one piece.

Evenly coat both sides with rib rub (below). You don't have to use a whole lot, just enough so that they are completely coated.
Wrap the ribs in foil (we cut them in half for easier handling) and cook in the oven at 250 degrees for a couple of hours, until they reach an internal temperature of 165 or 170. (A meat thermometer is your friend). This allows them to steam in their own juices.
Finish immediately, or put them in the freezer to use later. When ready to eat them, apply Sky High Apple-Glide Barbeque Sauce (below) to both sides. Then finish them on the grill or, if you prefer, in the crock pot, until the meat can easily be pulled from the bone, but not until it falls off by itself.
Enjoy.
Rib Rub
1 Cup Salt
1 Cup Sugar
1/2 Cup Garlic (we use granulated)
1/4 Cup Black Pepper
1/4 Cup of Paprika
The most basic rib rub is just salt, sugar and garlic. Add additonal flavors to taste. Kellen demonstrated this with a little black pepper and paprika. The rub we use and sell ourselves had some additional secret ingredients!
Just mix up the dry ingredients, and store in a sealed container. It will last indefinately unless you get moisture or grease in it, in which case it will go rancid on you.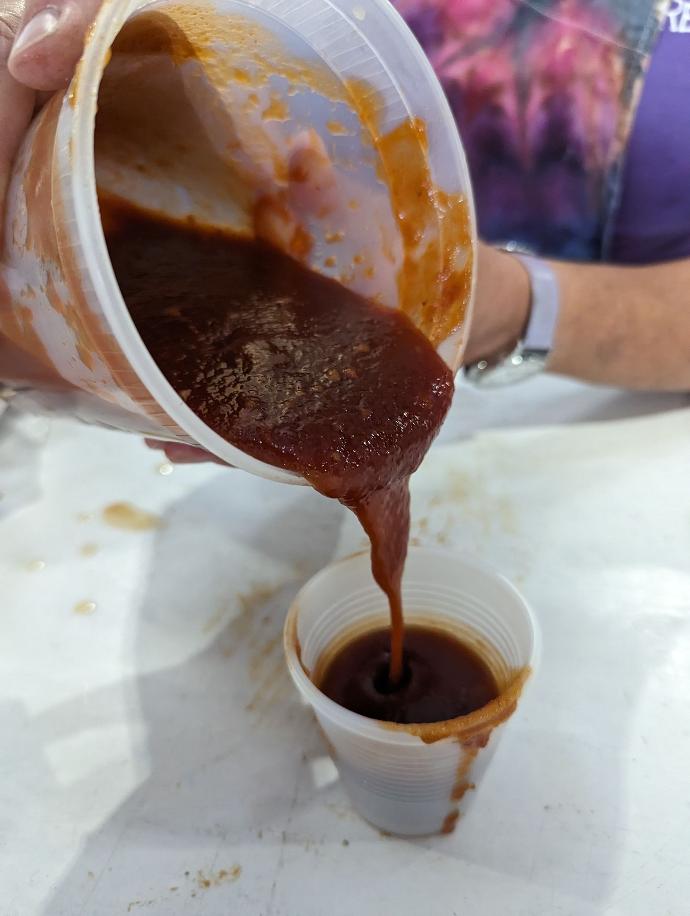 Sky High Apple-Glide BBQ Sauce
8 Cups Ketchup
1 Cup Apple Cider Vinegar
1 Cup Apple Juice
1 Cup Brown Sugar
4 Tbsp Garlic (we use granulated)
2 Cups Applesauce
1 plus 1/2 Cup Honey
1 Tbsp Salt
This is a simple sauce that you can easily make at home in the crock pot. It makes a large batch. We suggest that you put the amount you'll use in the next few days in the fridge, then divide the rest into pint or quart containers and store in the freezer until you want to use it.
Combine ketchup, vinegar, apple juice, brown sugar, garlic, applesauce and salt in a crockpot or medium-large pot. Heat to boil and let simmer for about three hours, until the color starts to darken. Add the honey, then `simmer for another half hour.
Let cool to around room temperature, then use, keep in the fridge, or freeze for later.