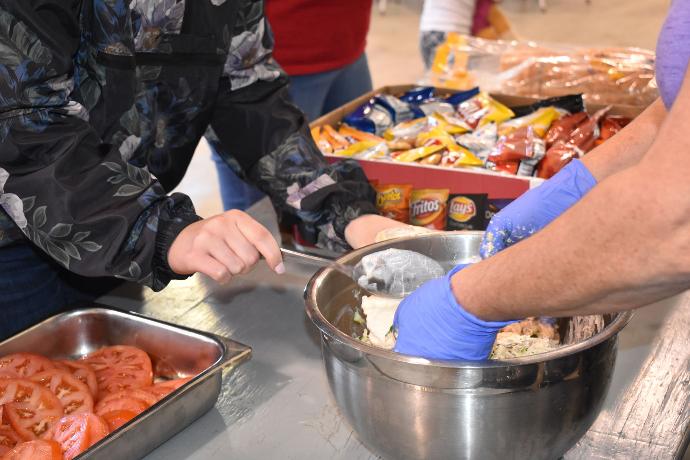 How to Help: Volunteer
We need volunteers in every aspect of this project.
On Wednesday, we need people to prep and pre-cook food. On Thursday, we have an early shift for cooking and prep. A noonish shift to serve. A late afternoon shift to serve and clean up. And a small Friday shift for final cleanup.
We try to have enough volunteers so that nobody has to volunteer for more than 2 or 3 hours, so that you have time to spend with your family as well.
No training required. You'll know what to do.
If you are interested in volunteering, please call Cathey Sawyer at (304) 645-5401 and she will get you on the schedule. Thanks!
"Kellen and Mike, You two and all your volunteers are awesome." Happy Thanksgiving. Melinda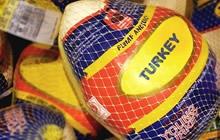 "Several years ago my husband, our handicapped son, and I had Thanksgiving Dinner at the Fairgrounds. The food was excellent. The volunteer servers couldn't have been nicer. Thank you.
We would not hesitate to go again. Please put this donation towards the dinner. Thanks again!"
2022 List of Donors
As much as we try to keep up with the list of donors, we inevitably overlook somebody. If you are that person, please know that the omission is unintentional, and we appreciate your gift no less than everyone elses.
In no particular order:
Greenbrier Ford
State Fair of West Virginia
Diann Hayes
Tom Cross
Judy Lucas
Sandy Epling
Paton Smith
Sabrina Dowdy, DVM
Lewisburg United Methodist Church
Joan Browning
Joe and Connie Jackson
Robert and Julie Riggleman
Dovetail Ridge Farm
Linda Ball
Susan Hewman and Dennis Maloney
Tammy Tincher
Carolyn Rudley
Jack and Janet O'Connell
Melinda Workman
Barbara Morgan
Dutch Haus
Tommye Rafes
General Lewis Inn
Big Draft Brewing -- Clay Elkins
Greenbrier Cut Flowers
PostNet
A Taste of Heaven
Corn + Flour
Blue Moon Bagels
Darlene Farrar
Swift Level Fine Meats
Village Wine Shop
Mary Ann Shires
Tom and Tim Kowalkowski
West Point Baptist Church
Karen Lemons
Greenbrier Dairy
Rosemary Rinde
Margy Bruns
George Little
Mr. Warfield's Engineering Students at Greenbrier East High School
Marvin and Jane Morgan
Barbara Morgan
Kim Thomas
Larry and Keisha Baxter
Jack and Boots Tuckwiller
in memory of Arnold Dowdy
John and Mary Cole Deitz
Ashley Parker
Caring Acres Farms
Marie Goodwin
WVSOM Southeast Region Third Year Students
Bob and Emily Haas
Christina Chapman
David and Judi Cole
Tim McGraw
Rich and Patty Ford
Brenda and Glenn Patterson
Lynn Benedict
Barbara Scott
Ruth and Bill Sturgill
Greenbrier Dairy
Kim Thomas
Caring Acres Farm
Marie Goodwin
Sue Dyer
Runyon Distributing
Cross Creek on Main
Barbara Tuckwiller
Guy Warner
Micheline and David Lawson
Lisa Bartlett
Raymond Stallis
Lori Erickson
Anonymous
Toby Garlitz
Joel Kanasky
Jennifer Killcollin
Amy Buckmaster
Mary Grist
Bill Kahler
Judith and David Cole
Christine Cacic
James Lafollette
Susan Hicklin
Anne Gurrymore
Kathy McClung
Teri Warner
Phillipa Radon
Donation
Andrea Lawson
Body and Sol
Old World Libations (April Ernst)
Marie Goodwin
Pat Williams
Mark Starr
Susie Caldwell
Kim Thomas
Randy, Alex and Riley Henthorn
Darlene Farrar
This Dinner is Absolutely Free to All
No gimmicks. No paperwork. Just show up and eat. (You can throw some money in the tip jar, if you want to.)